Name:Re-dispersible polymer powder

YIDA® VAE/RDP is widely used in:
Cement

Lime

Gypsum-based

Dry-mix mortar

Tile adhesive

EIFS

Self-leveling

Grouting

AAC Block
YIDA® VAE/RDP Physical And Chemical Indicators
| | |
| --- | --- |
| Chemical Name | Ethylene-vinyl acetate powder (VAE-RDP) |
| Exterior | White free flowing powder |
| Protective colloid | PVA |
| Solid content,% | 97-99 |
| Ash content,% | 10±2 13±2 15±2 |
| Bulk density, g/l³ | 300-500 |
| Particle size, μm | ≥80 |
| Particle size, μm | 0-5 |
Production Process



Ethylene-vinyl acetate rubber powder (VAE-RDP) is made of vinyl acetate/ethylene copolymer emulsion (EVA emulsion) modified by adding water-soluble protective colloid (polyvinyl alcohol usually PVA) and spray-dried, using water as the medium Can be re-formed into an emulsion, a powder with redispersibility.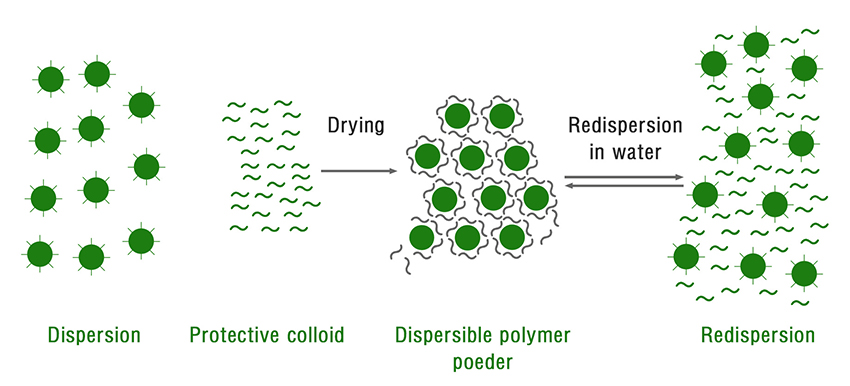 Physical And Chemical Properties
(1) Redispersible polymer powder is easily soluble in water and easy to form emulsion.
(2) Redispersible polymer powder has strong cohesive force and good tensile force.
(3) Redispersible polymer powder can improve the processability, flexibility and impermeability of materials.
(4) Redispersible polymer powder can improve the cohesion of the mortar, increase the concentration and anti-sagging.
(5) Redispersible polymer powder can improve the flexibility of the mortar and extend the open time.
YIDA® VAE/RDP Packaging Storage And Transportation
It can be packed in paper-plastic composite bag lined with polyethylene plastic bag, cardboard drum or plastic coated, etc. The net weight of each piece is 25KG. During storage and transportation, it should be protected from sun and rain, fire and moisture.
Hebei Yida Cellulose Co., Ltd. is a RDP manufacturer with 16 years of production experience.It has its own 16 RDP powder production lines with an annual output of 30,000 tons of RDP powder. Serving more than 500 customers in more than 40 countries.