Name Hydroxypropyl methyl cellulose (HPMC)
Company Hebei Yida Cellulose Co., Ltd. - HPMC manufacturer
Structural Formula

Where n is the degree of polymerization, R is -H, -CH3 or -CH2CHOHCH3
Specification
Item\index\model

65YD

75YD

Methoxy,%

27-30

19-24

Hydroxypropyl,%

7.0-12

7.0-12

Gel temperature, ℃

55-68

70-90

Moisture,%

≤5

Ash content,%

≤5

PH value:

6-8

Viscosity (2%, 20℃)

5-200000
Viscosity Specifications
Model

Range mpa.s




Model

Range mpa.s

350-450

85000-115000

4000-6000

125000-155000

45000-65000

170000-200000

YD1975

70000-80000

160000S-200000S
Production Process
As HPMC manufacturer, our HPMC production process is as follows:
Hydroxypropyl methyl cellulose (HPMC) is made from refined cotton after being pulverized, and then alkalized with sodium hydroxide (liquid caustic soda) solution, and then monochloromethane + propylene oxide is added for etherification to form crude HPMC , After neutralization (pH adjustment), filter press, drying, crushing and sieving, a pure HPMC product of certain fineness is obtained. The finished product has a slight smell, the smell of methane.
Application field
Mortar/Concrete/EIFS/ETICS

Tile adhesive

Renders/Plasters/Skim Coat

Painting

Ceramic Extrusion

Self leveling

AAC Block

PVC

Fire Retardant Paint

Detergent / Hand Sanitizer / Laundry Liquid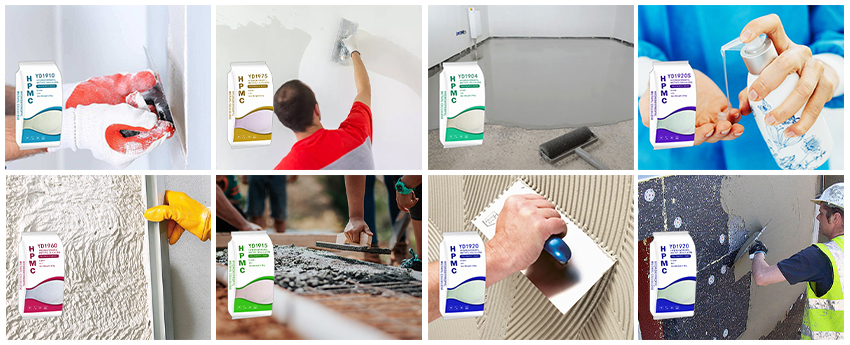 Packaging, storage and transportation
HPMC can be packed in paper-plastic composite bags lined with polyethylene plastic bags, cardboard drums or plastic coated, etc., each with a net weight of 25KG. During storage and transportation, it should be protected from sun and rain, fire and moisture.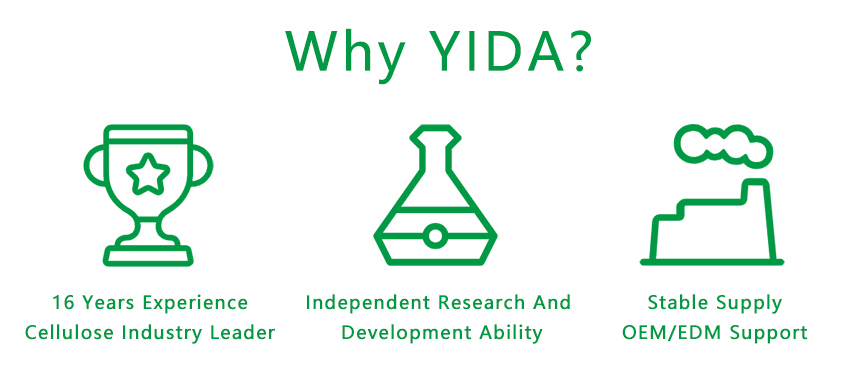 Hebei Yida Cellulose Co., Ltd. is a HPMC manufacturer with 16 years of production experience. It produces HPMC for construction and daily chemicals. The annual output of HPMC powder is 30,000 tons. Serving more than 500 customers in more than 40 countries.